Dance your way to health with the
full brain/body workout

strengthen neural pathways

Whether you want to lose weight
or just get moving…

TAPfit is a revolutionary dance program for everyone
from 5 to 85
Ashley lost over 14 inches in under 5 weeks
with TAPfit
"You don't even feel like you're working out. So you forget for a second that you're burning all of these calories. You're just having fun and sweating the whole time. It's awesome."
Ashley didn't think she could find a workout she'd enjoy. She'd put on so much weight, she only felt comfortable in her husband's clothes, but Ashley lost 14 inches in 5 weeks!
Linda lost over 10 inches in under 5 Weeks
with TAPfit
"I don't have time to take classes or drive 45 minutes in different directions to get there. This system is fantastic because all I have to do is roll out of bed, slap on those tap shoes, turn it on and I'm there. I'm warming up. I'm doing the workout."
Linda didn't think she could fit any exercise into her busy schedule, but lost 10 inches in 5 weeks!
Janice lost over 4 inches in under 5 weeks
with TAPfit
"I get a full body workout from head to toe. My arms get toner, I lose weight and inches, which I thought was impossible at my age.
I'm more confident in my everyday life as well as feeling stronger and my clothes fit better!"
Janice thought it would be impossible to lose weight and build muscle at her age, but Janice lost over 4 inches in 5 weeks!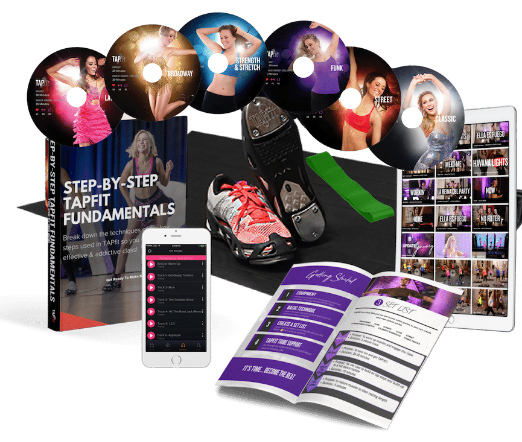 ---
Improve Focus

Remove Brain Fog

Peak Mood

Improve Cardiovascular Health

Lose Weight
---
---
Skip the dull boring workouts and push-ups - you just slip our taps over ANY FLAT BOTTOMED SHOE to transform them into DANCE SHOES!
How awesome is that? Our taps make all of the sounds and are completely slip-proof, so you'll feel like a pro. No Dance Experience Necessary!
Rollable Foldable Dance Floor
---
Our incredible portable dance floor turns any flat surface into a dance floor! The floor is rollable and foldable, easily stores under a bed or in a cupboard and is complete with a non-slip carpet backing so it will not slip, or damage your existing floors! Cool, right?
---
No Dance Experience is needed with our super fun and easy to follow dance workouts. Join the TAPfit Tribe across 5 full workouts, over 30 dance tracks. Our workouts are online so you can do TAPfit at home or anywhere you wish.
Working out AND having fun, why would you ever need to do another workout again?
FREE BONUS
Arm-Toning Resistance Band
---
Think TAPfit is just a leg workout? Our FREE arm-toning resistance band makes sure that you get a FULL BODY workout, engaging your core, legs, back, abs and arms.
FREE BONUS
"Step By Step Fundamentals"
Video Tutorials
---
No Dance Experience Needed! We have paired with some of the hottest celebrity choreographers who have danced with Selena Gomez, Justin Beiber, Katy Perry'. These guys are some of the best in the 'biz and they break down every move step-by-step so all you have to do is have fun, and watch the kilos FALL AWAY!
FREE BONUS
Getting Started Guides and Workout Guides
---
Our Workout guides are specially formulated to ensure you engage the right muscles at the right time and get the most out of your workout. We not only give you online guides, but a 50-page physical book which gives you all of the tools you need for sustainable, healthy weight loss and meal trimmer guides.
FREE BONUS
Fat-Burning No Equipment BONUS DVD
---
Can you imagine doing a workout where you were having so much fun, you didn't even know you were working out? This is an incredible dance fusion workout is a proven fat-burning blaster, using no equipment so you can get started right away, even before we ship you your amazing equipment.
Cool, right?
FREE BONUS
"Dance Series"
Learn 5 Tap Dances
---
Our sequin-studded dance series gives you 5 awesome dances across Latin, Funk, Broadway, Street and Classic styles. What's more, these dances include step by step video tutorials so if you want to break it down, we have got you covered!
---
Slip-On Patented Taps
​Rollable, Foldable Personal Tap Dance Floor
​5 x Amazing Online Dance Workouts - Broadway, Latin, Classic, Funk, Street
​FREE BONUS Arm-Toning Resistance Band
​FREE BONUS TAPfit Book including Getting Started Guides and Workout Guides
​FREE BONUS "Learn It" Video Tutorials - Learn To Tap In Minutes
​FREE BONUS Fat-Burning No Equipment Workout and BONUS DVD
​FREE BONUS "Dance Series" - Learn 5 Tap Dances
​FREE BONUS Physiology Report - How Tap Dancing Improves Cognitive Function
​FREE BONUS All Online Dance Workouts as FREE DVDs
---
Don't just dance to the beat...
Be The Beat!
TAPfit is more than just a dance workout... it's an empowering community of people (just like you), who want to dance their way to a stronger body and mind.
And we can't wait to welcome you to the TAPfit Tribe!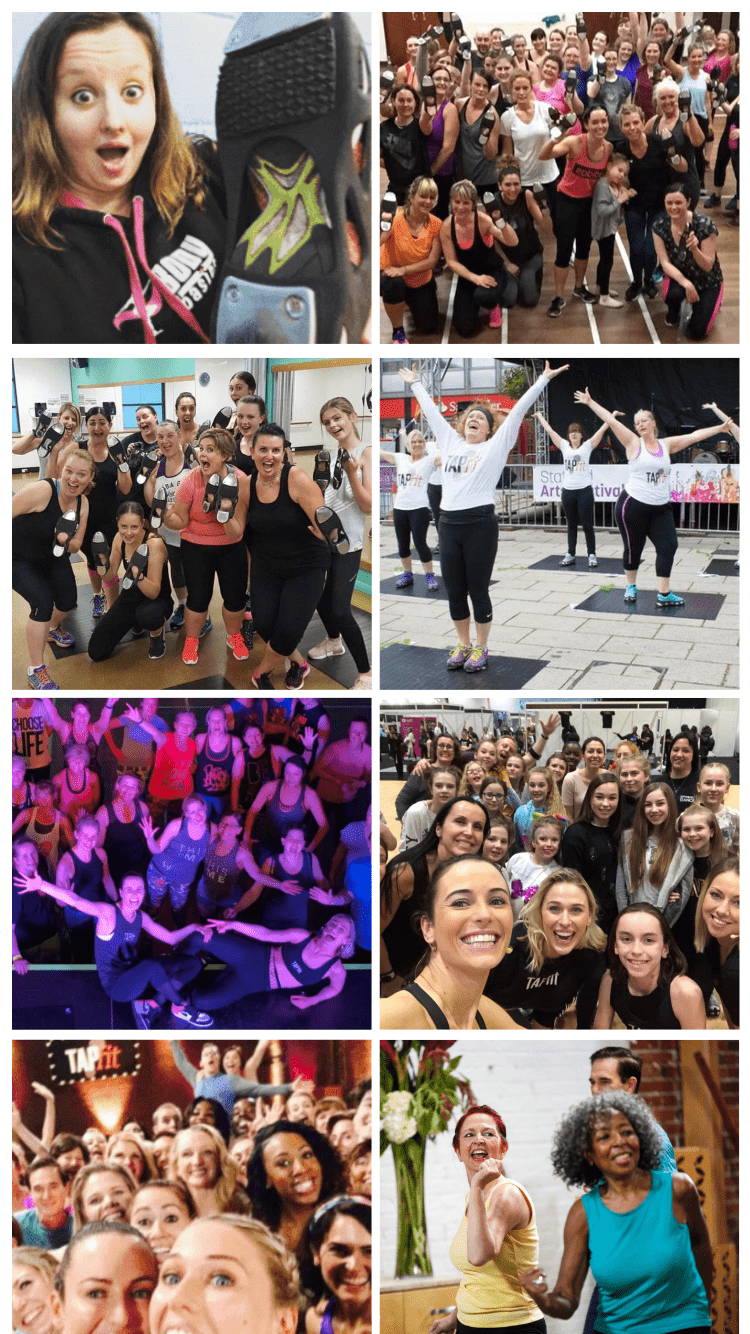 Join thousands of beat-makers, of
every age, all around the world





---
"What If I Haven't Danced Before?"
All of our routines are easy to learn. The best part is that they are FUN! If you can walk on the spot, you can do TAPfit and create the beat.
We break everything down so it's EASY to learn and EASY to workout. Each dance is 3 steps repeated 3 times, so all you have to do is remember 3 steps! We also have break downs so you can Learn The Workout or Dance before you work out.
TAPfit is easy to follow & low impact so you will feel safe, happy & confident no matter what your ability is. We have intermediate and advanced options which you can use as you progress.
No slipping, guaranteed! Our taps have a non-slip rubber gripper so you can safely dance your heart out without any chance of slipping.
"What if I have bad knees and injuries?"
All the steps in TAPfit have been designed by physiotherapists, professional dancers and fitness professionals to be low impact, safe and effective.
You can even do TAPfit sitting in a chair and get incredible results.
"I don't have tap shoes. Where do I start?"
With TAPfit, you do not need to buy tap shoes. Our taps slip over any flat-bottomed running shoe so your class participants do not need ANY equipment to get started.
"Won't tap shoes scratch my floors?"
The TAPfit Home Transformation program comes with an amazing rollable and foldable wooden floor so that you never have to worry about scratching your floors!
"I don't have time to do TAPfit"